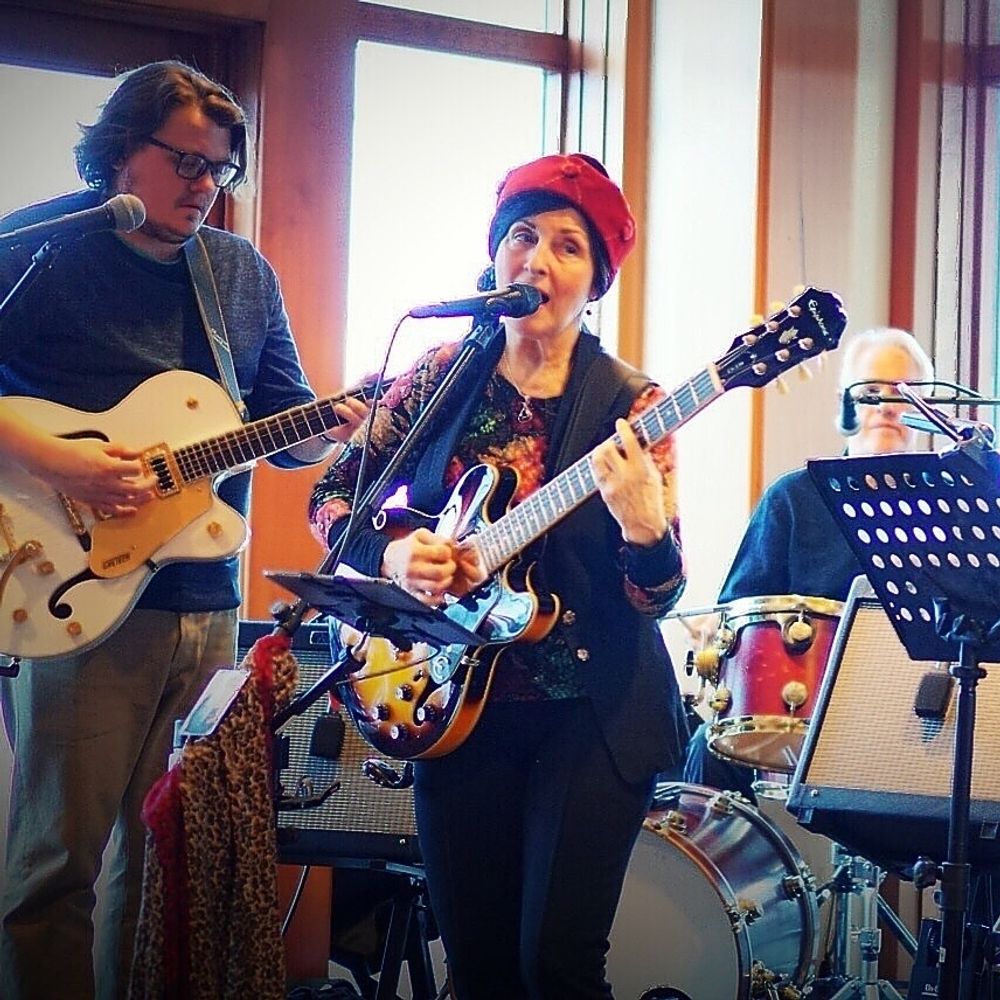 CDBB
Cooie DeFrancesco Blues Band
CDBB is Cooie's latest collaboration project. Short for Cooie DeFrancesco Blues Band, CDBB brings you a fuller expression of the mid-20th Century music that Cooie showcases in her solo shows. 
Among the titles: Jimmy Reed's "Bright Lights, Big City"; also his "Big Boss Man" and "Baby What You Want Me To Do" in medley; "Going Down" from Don Nix; Willie Dixon's "Little Red Rooster" and "My Babe"; Del Shannon's "Runaway"; Dale Hawkins' "Susie Q"; Chuck Berry's "Nadine" and "You Never Can Tell"; JJ Cale's "Call Me The Breeze"; Sonny Thompson's "I'm Tore Down"; Sam Cooke's "Bring It On Home To Me"; and Memphis Slim's "Mother Earth." And yes, there are some straight-up rock'n'roll and some country western tunes in that blues mix. 
A four-piece band with rhythm and lead guitars, bass, and drums, CDBB features Cooie DeFrancesco on principal vocals and rhythm guitar, Tom Buckley on bass & vocals, Tom Caswell on lead guitar & vocals, and Jeff Salisbury on drums & vocals. 
Cooie DeFrancesco: "I feel so fortunate to perform with musicians of this caliber. Each one brings a such depth of experience! Percussionist Jeff Salisbury and bassist Dave Buckley came up performing with many of the blues greats. To put it simply, they have nothing to prove to anyone. Tom Caswell, though younger, has absorbed much of the blues catalog, from its origins in the Amercan South to its rise in popularity in Britain and its subsequent reimportation Stateside during the British Invasion of the 1960s. Tom conveys the classic blues feel and still maintains his identity as a guitar stylist. 
CDBB is accepting bookings as a 4-piece. Other configurations from trio to 7-piece are also available.
CDBB at Spruce Lodge 2020
CDBB at The Den, Stowe 2020