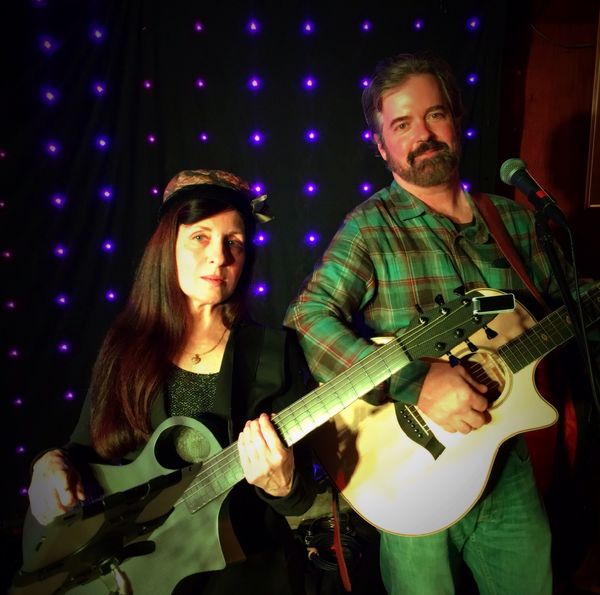 Cooie DeFrancesco is a Vermont songbird who lends a unique and heartfelt depth to a lyric, using guitar to complement the power of her vocal interpretations. Roots blues, country & western, jazz and folk are her first loves. A relative newcomer, Cooie has shared the stage with many of Vermont's top musicians and bands, making great strides since her start just a few short years ago. 
Skip Gray is a singer-songwriter who plays acoustic, electric and bass guitar, as well as upright electric bass. As a solo artist, he performs an eclectic mix of classic, contemporary, and original songs. Skip's music is infused with, and inspired by elements of blues, R&B, and the rest of the great American Roots Music traditions. 
Their meeting came about by happy coincidence: Skip caught Cooie's solo set in the Northeast Kingdom and was intrigued by the idea of combining their two voices. The collaboration that grew from that idea has been thrilling and inspiring their audiences every time! 
Cooie & Skip's harmonies will blow you away. From folk and blues classics to some pretty known and unknown Americana, Their musicality and emotion will touch you. 
Cooie's clear and vibrant vocal stylings bring lyrics to life, whether she's singing traditional tunes, popular songs, or originals. Her beautiful, tone perfect, soulful voice brings new life to both traditional and popular songs, and her music encompasses a dollop of blues, a touch of jazz, a bit of folk and some old time rock'n'roll. Cooie brings to each song a true and melodic voice as well as unique interpretive skills, using expressive vocal arrangements to take a lyric back to its foundation. Her beautiful and full voice is a joy to the soul and her passion for a song's meaning and spirit will evoke the same feelings in you I think her soulful, melodic voice will surprise and please you.
Cooie & Skip
Mozart Room, Trapp Family Lodge
Valentines Day, 2018
Press Photos